Welcome to the webpage of Comparing Canada(s), the 27th annual conference of the Centre for Comparative Literature at the University of Toronto, taking place on March 3rd and 4th, 2017. / Bienvenue au site web de Comparer le(s) Canada(s), la 27e conférence annuelle du Centre de Littérature Comparée à l'Université de Toronto, qui aura lieu le 3 et 4 mars, 2017.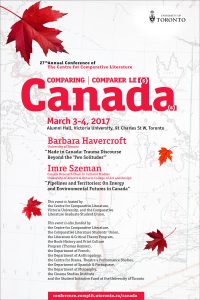 Invited Speakers
Barbara Havercroft, Professor of Comparative Literature and French at the University of Toronto. More information on Professor Havercroft's work can be found here. Professor Havercroft will deliver the 2017 J. Edward Chamberlin and Linda Hutcheon Talk, tentatively titled "Made in Canada: Trauma Discourse Beyond the 'Two Solitudes'".
Imre Szeman, Canada Research Chair in Cultural Studies, Professor of English and Film Studies at the University of Alberta, and Adjunct Professor of Research and Graduate Studies at Ontario College of Art and Design University. More information about Professor Szeman's work can be found here. The working title of Professor Szeman's talk is "Pipelines and Territories: On Energy and Environmental Futures in Canada".